POLY SHUTTERS
If you are looking for the new interior shutters for wet areas like bathrooms,kitchen etc,PVC will be the great option to consider.PVC,also named vinyl shutters , fauxwood shutters or Thermo poly shutters.

Since PVC is a very Dense material,we used a unique panel systems that is reinforced by an aluminum insert to support the structure and to avoid.Unlike wood shutters,PVC shutters is perfect for wet areas that will be exposed directly to water.

Wooden shutters will eventually get damaged when exposed to harsh weather and start to peel,crack,or fade.PVC are much more durable.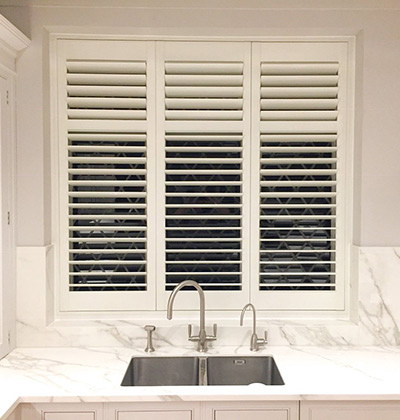 PVC SHUTTER FRAMES DESCRIPTION
There have 10 frames for Timber Shutters, include the L frame, Z frame and deco frame. The most popular shutter frame is the plain L frame, and you can suggest customers selecting the suitable frames for their window shutters:

Vintage L Frame (46mm, 60mm and 76mm)

Plain L Frame (46mm,60mm and 76 mm)

Crown Z Frame (62mm and 76mm)

Large BullN ose Z Frame

Deco Frame.
More custom shutter frames are available in Huisheng Wood as we have own mold workshop and R&D team, you can feel free to talk with us on your requirement.
PVC SHUTTER COLOR OPTIONS
As a 15 years leading supplier on plantation window shutters, Huisheng Wood supplies all kind shutters to leading distributors and top retailers, our main are FSC certificated Pine Shutters, PVC Shutters, Poplar Shutters, Basswood Shutters and Ashwood Shutters. An abundant ranges of colors are available here- the standard colors and custom colors.

Paint Color: Super White, Snow White, Bright White, Classic White, Ral Series.
Stain Color: Black Walnut, Manogany, BAF-Rose, Red Mahogany, Beech, Pecan Nut, Chestnut, Oak, Honey and Nature.
More colors like Fall & Ball collection, Sanderson, Dulux, Zoffany etc are available in custom service with extra costs.

Paint Color For Shutters
Extra Whtie

Pure White

White

Silk White

Snow

Egg Shell

Swiss

Creamy

Ivory

Sand

Sahara

Antique

Mushroom